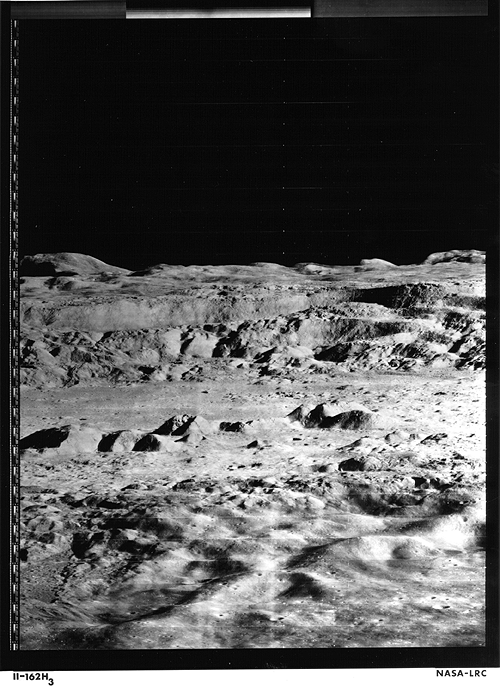 Copernicus
The Apollo 8 Flight Journal by David Woods and Frank O'Brien
The Apollo 15 Flight Journal by David Woods and Frank O'Brien
The Apollo 16 Flight Journal by David Woods and Frank O'Brien
The Apollo Lunar Surface Journal Edited by Eric M. Jones
Lunar Bases and Space Activities of the 21st Century
Papers from a NASA-sponsored, public symposium hosted by the National Academy of Sciences in Washington, D.C., Oct. 29-31, 1984
With all this talk about unknown craters, the following freeware program might be handy:

"Virtual Moon Atlas" by Christian Legrand and Patrick Chevalley. It is available at http://astrosurf.com/avl/UK_index.html

and features the a 3D real time display of the moon (including lighting conditions), but you can also set an arbitrary date to display. It contains an extensive database of features including all landing sites (Apollo, Surveyor, etc.). It also contains >1000 pictures of formations from the "Lunar Orbiter Photographic Atlas of the Moon".

It supports OpenGL for graphics performance (but doesn't require it). About a dozen languages (apart from English) are supported via language packs.

All those features take up some space, so it's a rather big download (about 31 Mb)

Sorry, the program runs on Windows 95/98/NT/2000/XP only.

Hung Pham, Product Manager for RITI, would like you to consider their lunar software. Detail information of the entire astronomy software is available on ther website www.riti.com.
Lunar Map Pro (http://www.riti.com/prodserv_lunarmappro.htm) Win9x,NT,2K,XP Space Update (http://www.riti.com/prodserv_spaceupdate.htm) Win9x,NT,2K,XP,MAC Earth Update (http://www.riti.com/prodserv_earthupdate.htm) Win9x,NT,2K,XP,MAC.

Lunar Map Pro
A review of the program by PJ Anway on the Cloudy Nights website. - LRK -
Lookum Observatory
http://www.munisingwebsites.com/lookum/